AutoStakkert!2 stacking software
"I can't see me ever using anything else to align image sequences from now on" – Damian Peach
See AutoStakkert.com for details.
My latest image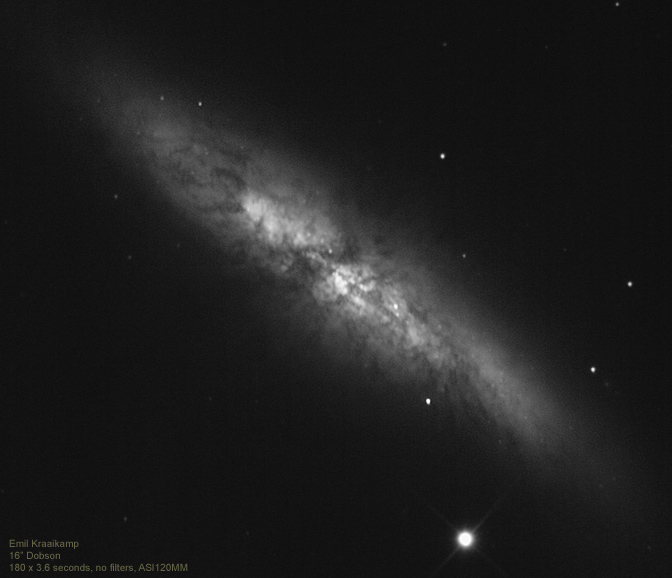 Click on the image for more information!
Welcome to my Webcam Astrophotography website!
"Who are we? We find that we live on an insignificant planet of a humdrum star lost in a galaxy tucked away in some forgotten corner of a universe in which there are far more galaxies than people." - Carl Sagan (1934 - 1996)
Welcome! I built this astrophotography website to keep track of most of the images I made during the past few years. All astronomy pictures on this website were made using the Meade Starfinder 10" EQ telescope on the original mount. Autoguiding and periodic error correction are not possible with my setup, so the exposures times are very limited. Because astronomical deepsky camera's are rather expensive, I mainly use several SC modified webcams to make deepsky exposures. Some of these webcams are modified for long exposure only, but some webcams have also been equiped with a more sensitive black and white CCD. For some more information on my setup, you can check out my equipment page.
As of June 2009 I also own a dkm21au04.as camara. This camera is far superior to the b/w Toucam Pro camera when it comes to planetary imaging. The DMK is also capable of long exposure images, but since it has no cooling and the ccd is extremely tiny, it's not very useful for most deepsky imaging. Nevertheless it can produce really nice images of bright and small deepsky images like M57.
The banner at the top shows the northern sky on an early summer morning seen from my imaging location (52°42'N, 6°16'E). From my main telescope location I can get decent views on the eastern and southern part of the sky, but if I move the telescope around a bit, the western and northern sky are also quite possible.
If you have any questions or remarks about this website, my imaging techniques, or images, feel free to contact me.